Visitor Basics
First Night Boston 2024, Boston's biggest public celebration, heads to City Hall Plaza on December 31, 2023.
---
When
First Night Boston begins in the newly refurbished City Hall Plaza at 12:00 noon on Sunday, December 31, 2023, and continues with programming throughout the day and night. The last musical performance in City Hall Plaza ends at 12:30 AM on January 1, 2024.
Where
First Night Boston is centrally located in Boston's City Hall Plaza, with additional programming happening at Boston Common and several churches and hotels in Boston's Back Bay neighborhood.
Free and Open to all
Thanks to our amazing supporters, all First Night activities are free! No buttons are required to attend First Night's programming.
Ice Sculptures
The ice sculptures will be located at City Hall, Boston Common, and possible other locations. Ranging in size and style, the sculptures will be in place by the afternoon of December 31 (exact timing will vary depending on the weather) and illuminated at night.
Click here for more information.
Support First Night Boston
In order to keep our activities free, we need your support! If you would like to make a tax deductible donation to First Night, please click the button below:
Fireworks
Fireworks will be displayed over Boston Common at 7:00 PM and Boston Inner Harbor at midnight.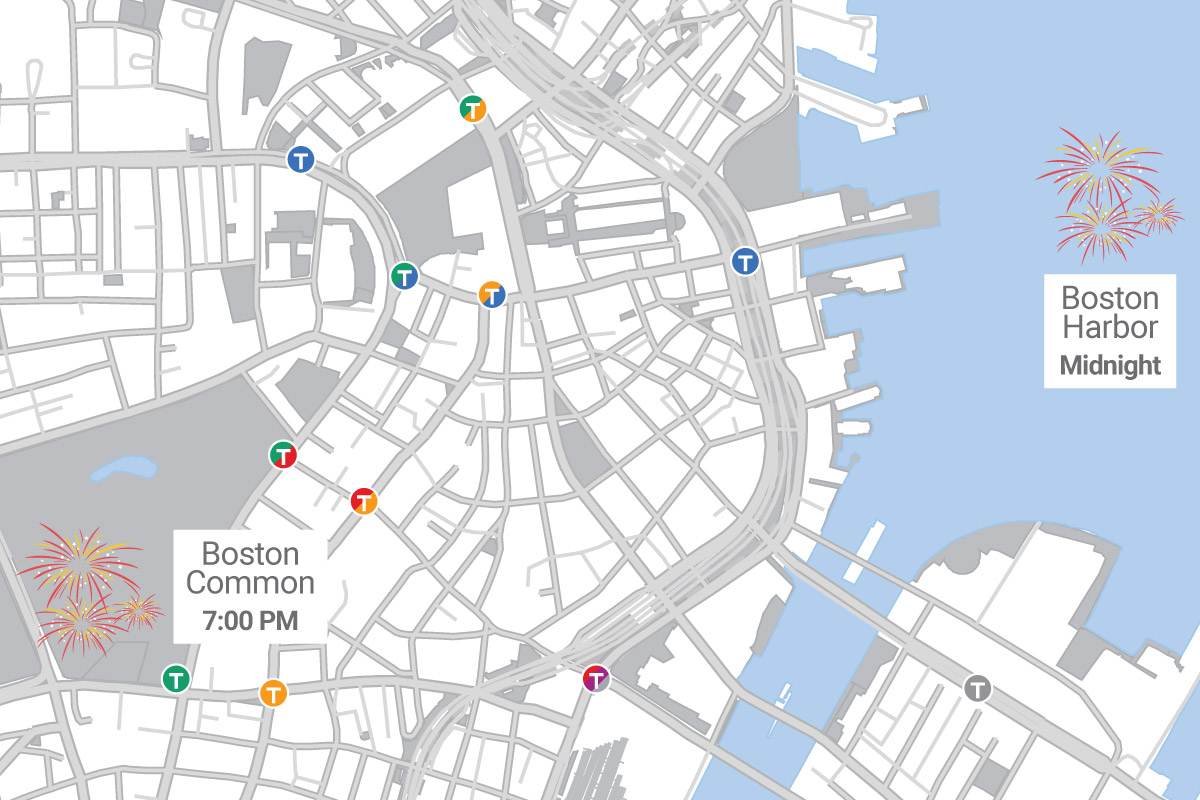 Public Transportation
We strongly recommend using the MBTA to travel to and from First Night Boston. Boston's City Hall is serviced by several public transportation stations, including stops on the MBTA Green Line, Blue Line, and several bus lines.
Visit mbta.com/holidays for schedule information.
Parking
First Night does not have specified event garages, however the following are close by to City Hall: Garage at Post Office Square, Haymarket Center Garage, 75 State Street Parking, and International Place Garage. Boston Common parking can be found at Boston Common Garage. Street parking is available on some streets, but extremely limited. If parking on area streets, please obey area signs as several parking bans and restrictions will be in place.
Traffic Restrictions
To be determined.