Visitor Basics
First Night Boston 2022, Boston's biggest public celebration, returns to Boston's Back Bay and Copley Square on December 31, 2021.
---
When
First Night Boston begins in Copley Square at 12:00 noon on Friday, December 31, 2021, and continues with programming throughout the day and night. The last musical performance in Copley Square ends at 12:30 AM on January 1, 2022.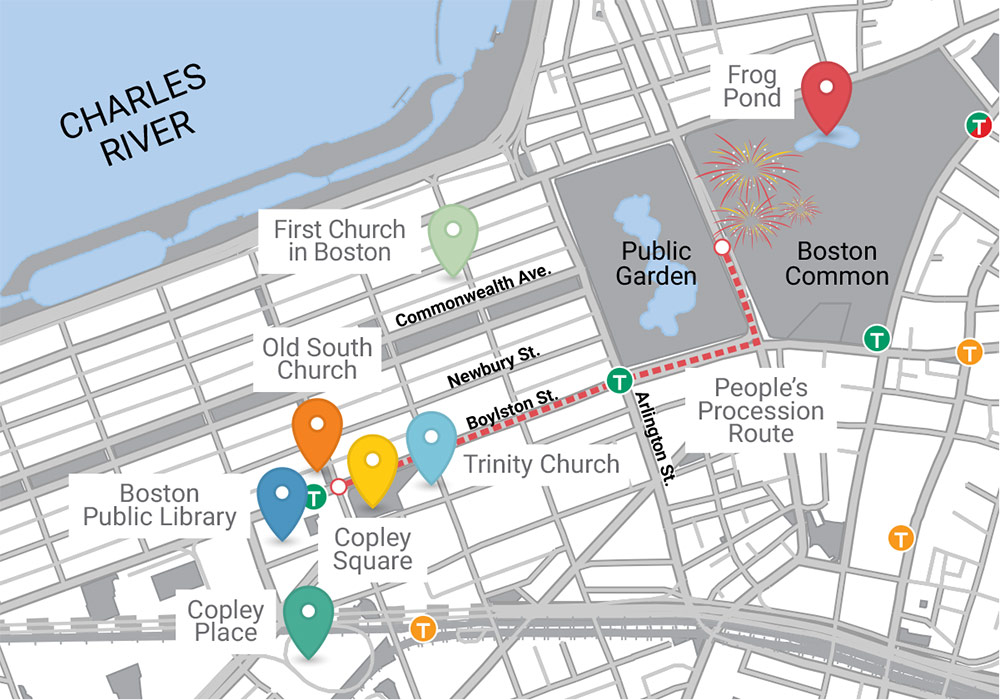 COVID-19 Precautions
Masks On Indoors!
First Night Boston will adhere to all current city and state safety precautions as it relates to COVID-19, including mandatory mask wearing at indoor venues. If city and state recommendations are adjusted as the New Year draws closer, First Night Boston will similarly adjust its guidelines to comply with those set by governing bodies.
Masks must completely and tightly cover the wearer's nose and mouth. Neck gaiters, bandanas, masks with valves or vents, and any covering with only a single layer of cloth are not permitted. Guests failing to adhere to this policy will be asked to leave the event immediately.
We encourage all guests to wear masks outdoors in crowded areas.
Stay Home if You're Sick!
Please do not attend First Night Boston if you are feeling unwell, or have been experiencing COVID-19 symptoms such as a fever, sore throat, chills, shortness of breath, congestion, nausea, or vomiting.
Please do not attend First Night Boston if you have been in close contact with an individual diagnosed or exhibiting COVID-19 symptoms within the past 14 days.
Please do not attend First Night Boston if you have been directed to self-isolate or quarantine by a health care provider or public health official, or if you are awaiting the results of a COVID-19 test.
First Night Boston will be available in its entirety on nbcboston.com, and we encourage you to join the fun from afar while you recover.
Free and Open to all
Thanks to our amazing supporters, all First Night activities are free! No buttons are required to attend First Night's programming.
Ice Sculptures
The ice sculptures will be centrally located in the Copley Square Fountain, and around the Boston Public Library. Ranging in size and style, the sculptures will be in place by the afternoon of December 31 (exact timing will vary depending on the weather) and illuminated at night. Additionally, nearby businesses in the Back Bay will also have displays for all to enjoy.
Click here for more information.
Fireworks
There are several displays of fireworks through the day.
The City of Boston's Family Fireworks presented by The Mugar Foundation will begin at 7:00 PM above Boston Common.
The Copley Countdown and Midnight Pyrotechnics Show will occur in Copley Square at midnight from the roof of the Fairmont Copley Plaza Hotel.
Midnight Fireworks presented by the Friends of Christopher Columbus Park will occur over Boston Harbor at the strike of 12:00.
Public Transportation
We strongly recommend using the MBTA to travel to and from First Night Boston. Boston's Back Bay is serviced by several public transportation stations, including stops on the MBTA Commuter Rail, Green Line, Orange Line, and several bus lines.
All MBTA services will be free after 8:00 PM on Friday, December 31.
Visit mbta.com/holidays for schedule information.
Parking
First Night does not have specified event garages, however the following are close by: Clarendon Garage at 100 Clarendon St., Copley Place, Prudential Center, and Boston Common Garage. Street parking is available on some streets, but extremely limited. If parking on area streets, please obey area signs as several parking bans and restrictions will be in place.
We recommend booking convenient and affordable parking in advance through SpotHero, the nation's leading parking reservations app.
To reserve your parking spot, visit the First Night Boston SpotHero Parking Page and book a spot with rates up to 50% off drive-up.

Traffic Restrictions
Dartmouth Street in Boston's Back Bay will close to vehicular traffic between St. James Ave. and Boylston Street from 8:00 AM on Friday, December 31, 2021 until 1:00 AM, on Saturday, January 1, 2022.
Boylston Street between Ring Road (near Dartmouth Street) and Charles Street will close to vehicular traffic on Friday, December 31, 2021 from approximately 4:00 PM – 8:00 PM.
Charles Street between Boylston Street and Beacon Street will be closed to traffic on Friday, December 31, 2021 from approximately 5:00 PM – 8:00 PM.
Support First Night Boston
In order to keep our activities free, we need your support! If you would like to make a tax deductible donation to First Night, please click the button below: